When you are buying property, you need to know the terms. And no, we don't just mean the interest rate. Before you can get a great deal, you should review what these words mean.
Affordability indicates the ability of a wide range of people to buy. When more people can afford homes, the market tends to heat up. Mortgage rates, home prices, and wages all affect affordability.
An appraiser is a licensed professional who uses detailed procedures which involve collecting necessary facts to estimate the market value of a property as of a specific date.
Hence, an appraisal is the appraiser's opinion of the market value of the real property. You'll need an appraisal when buying property if you will have a mortgage.
Appreciation is the increase in the value of a property or asset over time. Appreciation helps you build equity as the market value of your home goes up and you pay down your loan simultaneously. Typically, real estate appreciates steadily, but there is no guarantee.
The terms buyer's market & seller's market indicate which side of the transaction has more power in the negotiation. Typically, this dynamic depends on the supply or inventory in the market. Less than six months' supply indicates a seller's market and more than six months' supply trends toward a buyer's market.
Closing costs are the fees or charges paid at the time of closing to cover the cost of completing the transaction. A general rule of thumb is that closing costs usually amount to 2-5% of the loan amount. Federal law regulates disclosures of closing costs for most transactions, specifically for residential property of 1-4 units secured by a mortgage.
A real estate agent or broker provides a comparative market analysis (CMA) which is an informal valuation of a property. A CMA uses nearby, similar properties which have recently sold to determine a fair market value.
Contingencies are factors or conditions that buyers or sellers must complete before a real estate transaction can close. These include financing, home inspection, homeowners insurance, title, and appraisal contingencies but may involve others such as a home sale contingency.
The debt-to-income (DTI) ratio compares your debt payments and income. Divide your total monthly debt payments by your gross monthly income to find your DTI. Lenders use DTI to determine your eligibility to get a mortgage.
An earnest money deposit (EMD) is money paid when making an offer on a property. Your real estate broker deposits the funds into an escrow account. Also known as a good faith deposit, the payment indicates a willingness to complete the transaction.
Equity is the difference between your property value and the amount you owe. Typically, the longer you've owned your home, the more equity you have. Be careful about Home Equity Line of Credit (HELOC) loans. As property values increase, equity can help you if you decide to sell and then buy.
An escrow account is controlled by someone who holds funds on behalf of the parties conducting the transaction. A real estate broker uses an escrow account for an EMD. A mortgage company keeps an escrow account for insurance and tax money.
The fair market value (FMV) is the price a property would sell for in an open and competitive market where both sides act in their own interest, have ample time and are not pressured to buy or sell.
A homeowners association (HOA) is a non-profit entity having the authority to oversee a community and enforce the CCRs (conditions, covenants, and restrictions). An HOA charges fees to maintain the common areas of the subdivision. Before buying property in an HOA, ask your agent about the CCRs and the fee amount.
A home inspection is an evaluation by a licensed home inspector to identify any issues that might affect the property's value or livability. An inspector will examine structural integrity, electrical, plumbing, HVAC equipment, roofing, and environmental hazards such as radon, asbestos, or lead-based paint.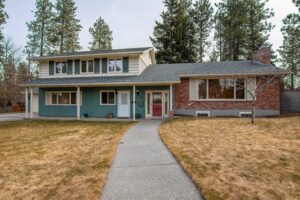 In real estate terminology, inventory means the supply of properties currently on the market. Analysts calculate inventory by counting the number of homes for sale on the last day of the month. If you have a home to sell, read Three Steps When You Want to Sell Your Home.
Your loan-to-value (LTV) ratio is your loan amount divided by the property's appraised value. LTV helps lenders evaluate the risk of lending to you. A high LTV might mean higher interest and more fees. A low LTV indicates that you've invested more cash in the purchase and are more likely to repay the loan.
A mortgage is a type of lien in which a property owner uses the property as collateral to borrow money when buying property. A mortgage gives the lender the right to take your property if you fail to repay your loan.
Mortgage rates are the rate of interest charged by a lender. It's the cost of borrowing money. Higher rates affect affordability and may cause the real estate market to slow or stall. Low rates usually mean the market will heat up.
Your mortgage payment usually includes principal, interest, taxes, and insurance (PITI). The principal is the amount you borrowed. Interest is the cost of borrowing. Your local government collects taxes to fund schools, the police force, fire departments, and other municipal expenses. Homeowner's insurance covers loss from fire, theft, and other disasters. Insurance may also include mortgage insurance.
If you have a conventional loan and pay less than 20% down, you will likely have to pay private mortgage insurance (PMI). PMI protects the lender's investment if you don't repay the mortgage. Borrowers with an FHA loan might pay a mortgage insurance premium (MIP) which is mortgage insurance backed by the government.
When you're ready to buy, you will need pre-qualification from a lender. A pre-qualification is a preliminary evaluation based on information provided by you and tells how much money you can borrow. After you've found the home you wish to purchase, you will want a pre-approval letter. That's a conditional commitment to lend to you and involves a more thorough credit check. 

Your real estate agent is a licensed professional who will help you navigate all the terms and terminology of your real estate transaction.